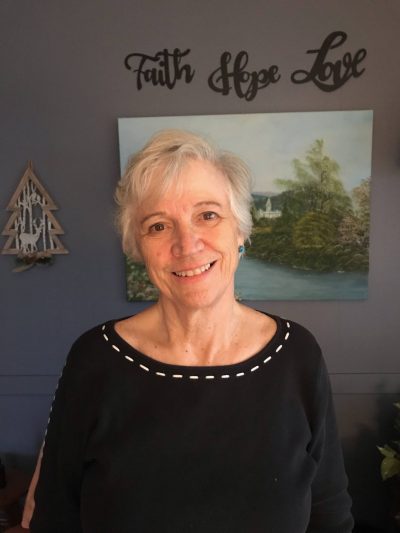 One of our volunteers, Johna Hodges, took a few moments to share her experience as a volunteer with us.
We've been able to have volunteers back in our building starting in the summer of 2021 and our residents and program participants need discipleship and mentors now more than ever!
If you think you'd like to get involved as a volunteer, give us a call at 574-268-9555, email us at info@fellowshipmissions.net, or fill out an application online.
Meet Johna Hodges
Johna began volunteering with Fellowship Missions as part of a group of women from Pleasant View Bible Church in 2013. She would plan the meals and work with volunteers to help provide the food needed.
In the beginning, they helped provide meals when there was only a men's home, then continued as Fellowship Missions grew to serve women and children.
The group provided a meal for all the residents once a month and last year added a second meal to help meet the shelter's needs.
In May of 2018, Johna began to volunteer as a disciple-maker. Volunteering with Fellowship Missions is important to Johna as she believes God's Word instructs us to care for those in need.
"I've always felt compassion for the homeless. Being homeless usually comes with the feelings of failure, sadness, loss of hope.  All who enter into the ministry of Fellowship Missions will find love and acceptance, hope and help because Christ and God's Word are the center of the ministry."
Behind The Scenes
Being a part of the meal ministry is rewarding to Johna and her fellow volunteers because they have the opportunity to meet residents face-to-face.
Whether its residents helping in the kitchens or accepting meals that are provided, it creates a powerful connection between volunteers and shelter residents.
As a disciple-maker, Johna shares that it's mostly a time of listening. Her goal is to always understand the heart of the women she meets with.
They spend time in God's Word together and share questions, needs, and hurts. It's a time when Johna feels she can share God's love with the women she is coming alongside.
"I want my time with each woman to encourage her to keep trusting our Lord. All of my time spent with these women has helped me to grow spiritually as well. I have met with women who have exteme health issues, who are learning to live with addiction, and who have suffered tragedies. All are searching for a closer walk with God."
A Word From Johna
It doesn't take a Bible scholar or a professional counselor to be a volunteer at Fellowship Missions.
If you care about people and want to share the love of God with others, many who are less fortunate than yourself and who have made some bad decisions in their life, you can come alongside and encourage them.
You can listen and pray, pray with them and pray for them. You will become friends, give hugs, and be a cheerleader when they accomplish their goals.
Ready To Help?
If you have a love for others, a servant's heart, and are committed to following Jesus, you could be the right fit to volunteer at Fellowship Missions. No matter what your gifts and talents are, you can be a part of helping those in our community who need it most.
From answering phone calls to helping in the kitchen to providing transportation or taking care of children. No matter what your skills are, we need your help!