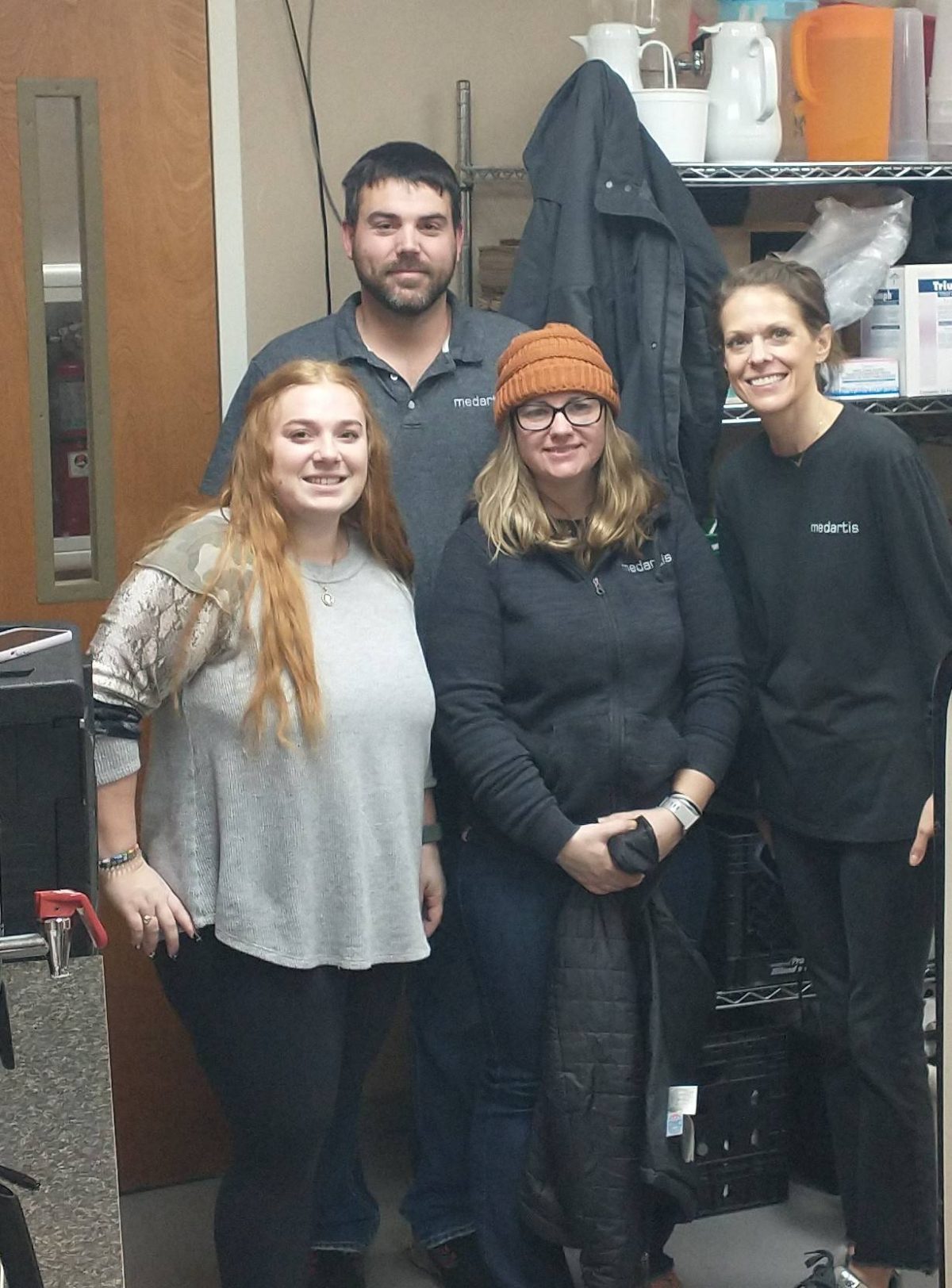 One of our volunteer teams from Medartis (Beth Rooney, Matt Scott, Melissa Simpson, and Travis Christman) took a few minutes to share their experience as volunteers with us. We can't do what we do to restore lives and renew hope through Fellowship Missions without our dedicated volunteers!
If you think you'd like to get involved as a volunteer, give us a call at 574-268-9555, email us at info@fellowshipmissions.net, or fill out an application online.
Meet Beth Rooney
Beth has been volunteering with us for four years when she started looking for a way to make a meaningful impact in our community alongside her coworkers.
"I love interacting with the staff and residents. It seems like I get to meet someone new every time I serve! I also love the interaction I get to have with my coworkers outside of work. You can learn a lot about other people when you're standing in a kitchen making meals together."
Meet Matt Scott
Matt has been volunteering at Fellowship MIssions for two years and has a history of community work in Kosciusko County, having helped with Our Father's House in the past.
"If you're considering becoming a volunteer…DO IT! It's a really fun and rewarding experience for a worthwhile cause. Plus you can volunteer once a month, so it isn't time-consuming if your schedule is full."
Meet Melissa Simpson
Melissa has been a volunteer with us for two years and decided to start volunteering because of her desire to help others.
"I love knowing I can make a difference as God's hands and feet. I get such joy from helping others."
Meet Travis Christman
Travis has also been volunteering at Fellowship Missions for two years and has a history of serving our local community in other areas.
"It's been rewarding to be able to help others and give back to our community. It's an enjoyable experience!"
Ready To Help?
If you have a love for others, a servant's heart, and are committed to following Jesus, you could be the right fit to volunteer at Fellowship Missions. No matter what your gifts and talents are, you can be a part of helping those in our community who need it most.
Whether you want to volunteer as an individual or join your co-workers as part of a team like Medartis, we need your help!