One of our volunteers, Donna Loer took a few minutes to share her experience as a volunteer with us. We've been able to have volunteers back in our building starting last summer and our residents and program participants need discipleship and mentors now more than ever!
If you think you'd like to get involved as a volunteer, give us a call at 574-268-9555, email us at info@fellowshipmissions.net, or fill out an application online.
Meet Donna Loer
Donna has been a longtime volunteer with us at Fellowship Missions, helping out before 2010 when we didn't even have an official Fellowship Missions building yet!
Behind The Scenes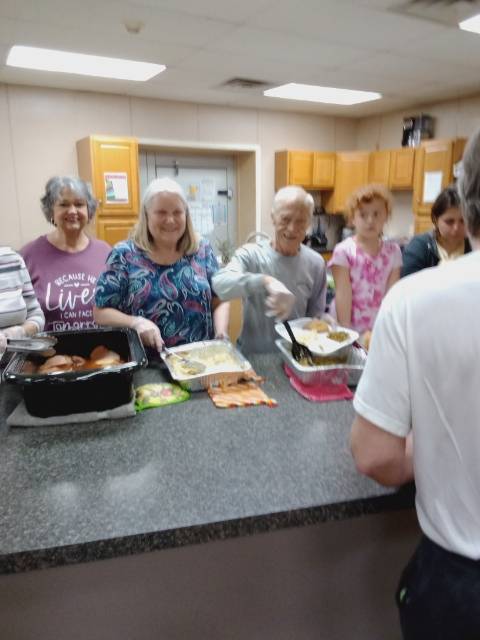 Donna volunteers as part of the meal ministry team. She started volunteering when a friend asked if she would help her cook and serve a meal at Fellowship Missions. Her friend had a heart for serving but didn't know how to cook, so Donna and her daughter helped out.
"That first night volunteering made an impression on me that changed my life forever."
A Word From Donna
If you've been considering becoming a volunteer but aren't sure, pray and ask God if this is a way in which He wants to use you.
You will be blessed beyond measure! I am 75 years old and, when I am no longer able to do this, it will break my heart.
However, I will have so many precious memories of my time with the residents, both touching and hilarious…such as when they make comments like, "My mom used to fix that when I was home" or when they thanked us for having chopped eggs for salad.
I stood there and thought, "When have I ever been thankful for chopped eggs?". As I said earlier, it is a life-changing experience to volunteer here and you'll never regret it!
Ready To Help?
If you have a love for others, a servant's heart, and are committed to following Jesus, you could be the right fit to volunteer at Fellowship Missions. No matter what your gifts and talents are, you can be a part of helping those in our community who need it most.
From answering phone calls to helping in the kitchen to providing transportation or taking care of children. No matter what your skills are, we need your help!